This Berlin Life
Stories of Berlin: sprawling, grubby, historically marked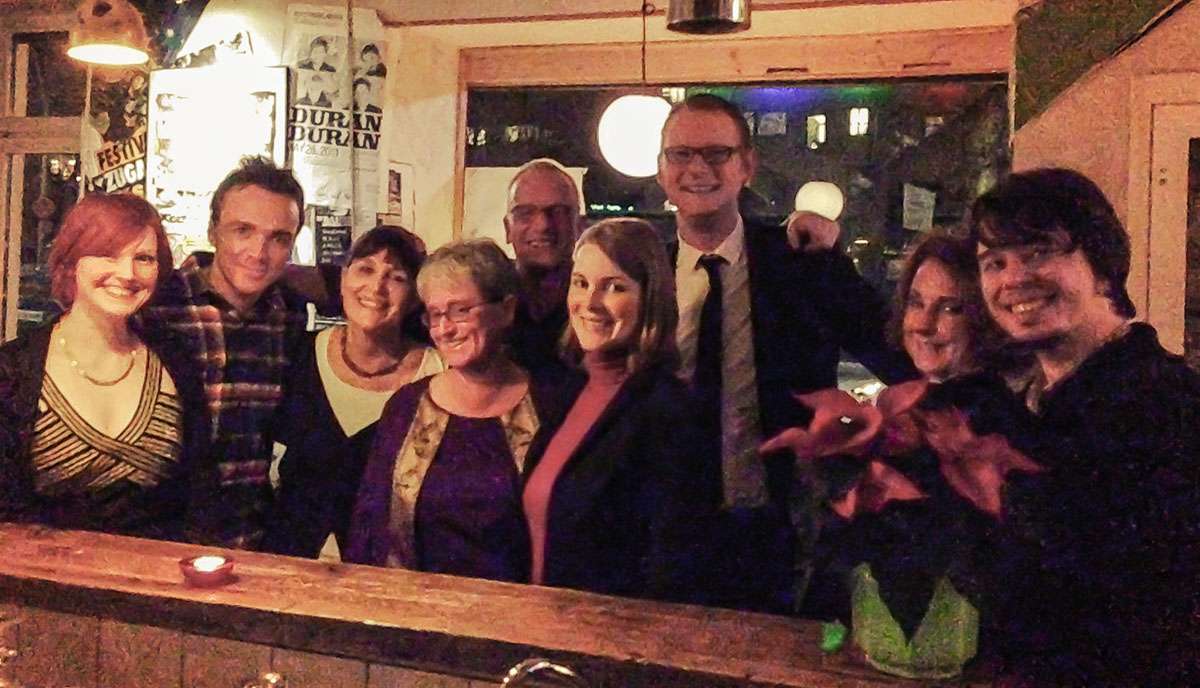 Photo: This Berlin Life
I took part three times in an evening of performed stories entitled "This Berlin Life," modelled on NPR's "This American Life." In each of my stories, I emphasized the character of this sprawling, grubby, historically marked city—my home for almost thirty-five years. It was fun to share the stage with several others.
Here you'll find a recording of me performing Ahmed and Rashid, the first story I performed in the series.
Ahmed and Rashid
---
The AGB exists only in text form—but maybe you'll enjoy imagining my voice as I give you a tour of Berlin's largest public library.
AGB
The most fascinating library in Berlin to observe Berliners is the Amerika-Gedenkbibliothek, known as the AGB. It opened in 1954, "a donation of the Americans to commemorate the Berlin blockade"—wow, nice touch on our part, I've always thought.
The massive rectangular building is drab and functional, made of concrete and glass. On a late Saturday afternoon the place is full of people actively pursuing knowledge.
The man to my left is reading old issues of Austria's national magazine and reading up on a place represented by a lighthouse on the cover (the classy North Sea isle of Sylt? Cape Cod?). The woman across from me has a pile of reference works about German literature, but seems to hope the real learning will occur once she's got the books home: she's taken only a few notes on a small folded piece of paper. That pimply young man with pocket calculator, glasses case, thermos bottle, and piles of folders seems to have settled in for the entire afternoon.
Three girls have just arrived on my right, the middle one wearing a headscarf, each with a Mathematics for High School textbook open in front of her. They alternate effortlessly between German and Turkish, speaking a bit loud for their silent neighbors, who look up a bit distractedly and then return to the material in front of them.
I've taken a seat at the edge of a block of tables to observe the 23 others seated here: the guy with the base cap fashionably backwards, biology books to the left, one open, the game on the handheld display absorbing his attention. The guy to my left is working with a graphics program.
A slow reader to my right occasionally takes notes. Shoulder-length thick black hair, face reminiscent of a South American Indio, a copy of El País in front of him. But the man is examining a fading book with charts of thick black lines staggered across the right page, photos of pan flutes on the left, musical notation under the charts.
As I wander through the stacks, I see an older man with a hook nose sitting on a stool examining a grammar book; from ten feet away the lesson appears to be on verb declinations. Perhaps he's working on German in his spare time?
On the computer for the visually impaired, a woman is checking apartments … $36,000 in US dollars—where can you buy an apartment for $36,000? Are these foreclosed properties? Is she American, looking to move back? A German who's heard about bargains to be had?
A very popular activity is catching up on the newspapers in German, Arabic, Polish, English, Russian, Italian …
People cluster around the flimsy metal set of shelves with a sign: "Books and Videos Returned Today". Is there an assumption, like on the Internet, that something others have read or watched is hotter, more up-to-date? Or maybe deeper, wiser, more relevant than that other stuff gathering dust?
No one at all is looking through many of the bookshelves. Maybe the library should just have workstations and make less of a bother about updating their book collection? What if only those books that get the most look-ups were given a place on the shelves? Many would make themselves obsolete.
In the far right-hand corner is one of my favorite sections: English-language literature. I either look up specific authors in the card catalogue or impose a system ("Australians, A to K") or just randomly grab something.
Nine 17-year-olds, their table full of drinks, pencil cases, books, notebooks, plastic bags, are leaning over each others' notebooks and writing in them. One easily distracted young man keeps checking out the girl he's attracted to; it appears that, unfortunately, she's engaged in animated conversation with the least attractive boy.
I perch on a marble shelf on top of the radiator. Does that woman who just stared penetratingly in my direction notice I'm taking notes? Ah, she's got a blank Word document open . . . it's not about me—she's stuck!
Many people have brought along copied articles marked with highlighter and laptops, hoping the surrounding intensity of purpose will rub off.
"I'll show you quickly where they are," a tall blond young man says, pulling his girlfriend from travel to English-language books.
"I can find them myself, you know."
"Quick, just really fast," he responds, pulling on her elbow. She visibly resists being steered through the building.
People take their relationship dynamics with them wherever they go.
The gentleman to my left at this table—an Italian intellectual?—is reading one book, while he has a second one open to the page Schicksalsschläge. Has he himself suffered a "blow of fate"? Is he looking to help others through troubled times?
Closing time is in 40 minutes. Like at a German supermarket, the place fills up rather than empties out as closing time approaches.
I know someone who spends entire days here researching his favorite controversies and cover-ups using the "Free Internet." The sign requests you limit your time and give others a chance. From where I'm leaning against a help desk, I can see four individuals dressed in coat and hat, looking ready to go. I guess they're ready to go … online.
"Excuse me, where's Philosophy?" a young lady asks me. I tell her I've seen Hegel near the English books at the back. "Thanks, that's the one place I haven't looked yet!"
"Closing in 30 minutes." A friendly female voice announces it would be a good time to check out books, as the line is currently quite short.
I used to try to borrow videos here, but nothing ever seemed available. On a Saturday afternoon, couples take out films for the weekend, deciding together on the basis of the covers what to watch.
Is the man to my left thumbing through recent issues of The New Yorker and Rolling Stone. A German with an advanced level of cultural awareness? Or an American far from home?
"We will be closing in 12 minutes. Please end your work and prepare to leave the library." Many laptops still open, people using the copy machines … in no hurry to leave just because it's closing time!
A few books are still lying around on the tables; someone was delving into them until the last minute. One big pile: Costume History, Lagerfeld, Gucci, Decolletés. "The Age of Absolutism". Das neue Südafrika. The Brockhaus Encyclopedia: Kind to Krus. The German Yearbook of Psychotherapy. Frida Kahlo. The Oxford Book of Gothic Tales. "Matisse: The Man, The Life, The Work". A magazine called Deutsch Perfekt.
The bell has now become so annoying that no one can ignore it. It is like the supermarket: "It is 7 pm, and we are closing now." And the lights go off in the AGB …