Writing on Music
I kicked off by writing about classical music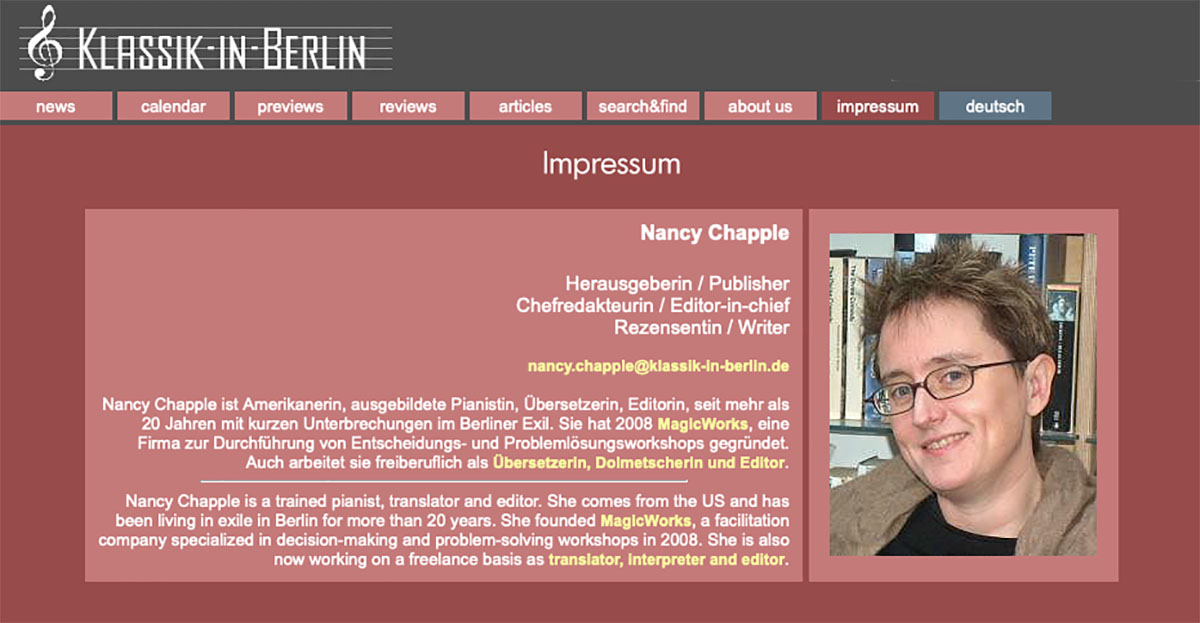 I'm a classically trained pianist (Oberlin Conservatory, Manhattan School of Music). I grew up in a household full of music, with classical musicians on my mother's side. My mother was my first piano teacher, and many of my earliest memories and photos of me as a young child are at the piano.
I've written of the intense expectations imposed on classical musicians at auditions and examinations and competitions, and the near-constant feeling of psychological pressure. In the hybrid music and text solo performances I've been developing since the 2010s, I've tried to disrupt the expectations that I'd so internalized in conservatory life by playing fragments of pieces, by interrupting and distorting phrases, by juxtaposing diverse works.
Around 2000, I was asked if I would like to review concerts and opera in Berlin by the New York music editor Bob Levine. In the early 2000s I wrote dozens of reviews for Andante and for Classics Today, as well as in German for Online Music Magazine (e.g., on Shostakovich's The Nose). I also wrote a music column for Exberliner for a couple of years. (The monthly just celebrated its 20-year anniversary; back then, founding editor Nadja Vancauwenberghe asserted, taking the New Yorker as her model, that their magazine just had to have a classical music column!)
Out of that grew a project that my husband Jens and I are still quite proud of: Berlin's first and only website for classical music, Klassik-in-Berlin, with concert listings, Berlin music news, previews, reviews, and feature articles. We were actively online from 2003 to 2009: I was the editor-in-chief, working with several writers and requesting tickets and sharing articles with the concert organizers and opera houses; Jens designed and programmed the website, including opera synopses and links to artists' websites.
Most of the links are no longer live, but a couple live on: here's one about a cello competition and one on a Heiner Goebbels's performance.
At my first creative nonfiction writing workshop, which took place at Goucher College in the summer of 2003, Stephanie Citron interviewed me about the website—she wrote quite a charming article.
Ein Klassik Berliner
by Stephanie Citron
Paris has one. So does London. And, of course LA… But, "none as cool as what we do" avows Nancy Chapple, a Providence, R.I. native living in Berlin. She's talking about www.classicalberlin.de, Berlin's enticing new classical music venue website that she founded and set up with husband Jens. He's webmaster and provides all technical support; she defines the site's content and writes most of the articles.
While most cities post cultural calendars on related travel and tourism websites and in other media venues, few can boast websites devoted exclusively to the classical music scene. Let's face it, not many have a prominent classical music scene to speak of.
The city of Berlin hosts a huge number of concerts and opera performances year-round. …
Berlin's classical music community has embraced the medium and many organizers are sending announcements of their events on a regular basis, including the opportunity for Nancy to review the performance.
Nancy dons a sophisticated cropped blond-brown European hairstyle. While chatting with her about the site, her own music and all that she and Jens have composed together in their labors of love, her light eyes sparkle, and she is so-o convincingly Ein Berliner.
SC: You must tell me how the site was conceived.
It started as an indulgence. 'Sweetie, I'll make you a website. … We actually thought it would be a good way to get tickets to otherwise expensive events.
SC: What inspired the format for the site?
We did a lot of research. We looked at other cities' information. We decided that it needed to be focused and filtered. The site is aesthetic and easy to work with. We cover anything that has a presence in the classic music scene here.
SC: You and your husband seem to inspire each other so effortlessly. How did you meet?
NC: We met in a café. We began talking and have never stopped.
SC: What's the future?
NC: Freelance contributors, because I can't cover it all. Marketing and awareness building. We only get about fifty hits a day, even with the traded links. [Editor's note: At article publication in October, the site is up to 100 hits a day.] Also, more revenue-producing components.
SC: Thank you, Nancy.
NC: Thank you!